Friday, December 19, 2008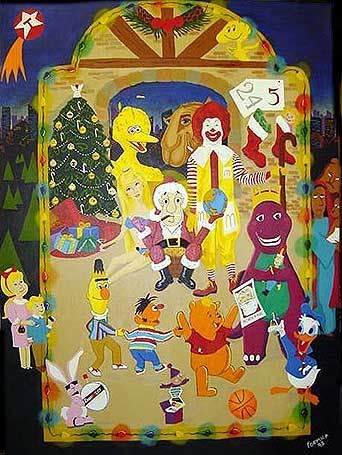 For unto you is born this day in the city of David a savior, which is Christ the Lord.
Posted by

Artist Samuel J. Formica
at 1:00 PM
No comments:

Saturday, December 6, 2008
Philadelphia, PA…Artist, Samuel J. Formica, looks to the future and chooses to sell his acclaimed life-sized painting, Looking to the Future, in a manner that all indie artists with a vision should do—on his own. Looking to the Future chronicles more than one hundred scenes of historical triumphs and tragedies. The sweeping detail surrounds an image of Benjamin Franklin, the painting's robust centerpiece. An omniscient Franklin peers through his window while on his cell phone in the five by seven foot, oil on canvas painting that took Formica three years to complete and can be viewed in person at The Franklin Institute at 220
North 20
th
Street, Philadelphia, PA 19103 or online at
www.samuelformica.com
. Purchase inquiries should be directed to SJF Sales at 215-200-6007 or
sjfsales@samuelformica.com
.
Looking to the Future has been lauded by US presidents, including Bill Clinton, George Bush, and Gerald Ford, for its vigorous depiction of the history of America. "It's a wonderful portrayal of American history," said President George H. W. Bush after viewing Looking to the Future. And Frank R. Wolf, Member of Congress, House of Representatives stated, "The painting is truly an original with phenomenal meaning."
Formica's work is highly collectible; he paints only two to three new works per year. Dense with allusion and vibrant colors, his careful composition has led him to international recognition. In 1985, Formica was discovered by the late artist agent, Ola Jones, who had a keen eye for recognizing self-taught talent. She encouraged him to trade in his syringes for brushes. Twenty-two years later, Formica is still drug-free, and his paintings have since been exhibited in international solo shows; published in Art Now, Art Matters, The Pew Trust, and American History Magazine; collected by Governor Arnold Schwarzenegger, President Jimmy Carter, and Donald Trump; and recently honored by the Benjamin Franklin Tercentenary commission and placed in the official Ben Franklin Tercentenary exhibit catalogue, In Search of a Better World (Yale University Press).
Posted by

Artist Samuel J. Formica
at 11:44 AM
No comments: