Another beautiful autumn day in Philadelphia, in fact there have been quit a few fall days that were just perfect since the season began. Funny thing is, I hadn't noticed any of those days. I used to b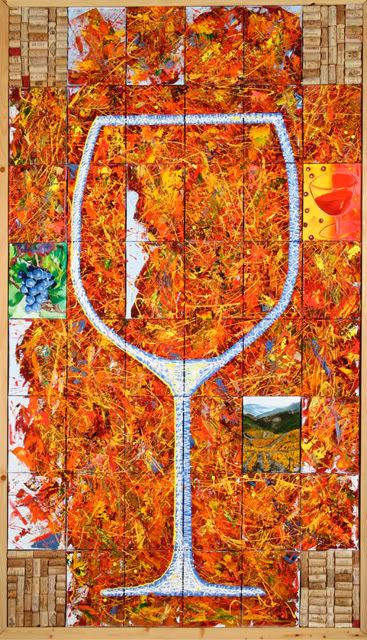 e so in love with the autumn season, with the changing of the leaves, the crisp air and of course bringing out those comfortable sweaters from storage. The other aspect to autumn that I personally like and some people feel I'm crazy but I like the fact that we turn the clocks back causing it to get dark earlier. I have always been a studio painter and when those long days of summer are here I rarely come in out of the sunshine to paint, I feel I may be missing something by not being outside, I guess.
Today however, I was walking through one of my favorite parks in Philadelphia, Washington Square. I noticed a bench drenched in sunlight that just caught my eye and made me want to sit and bask in its rays. Just then this feeling came over me almost like a trance, the sunshine seemed to be stabbing through the leaves like swords, lighting the ground with brilliant hues of green. Even the trees seemed to be competing with each other as to which had the most shades of orange, red and yellow foliage; it was truly a spectacular scene. I looked up at the sky and almost wept, I never seen such a blue sky. God had stopped me in my tracks.
This was one of those times when I felt the spirit of God. I sat there humbled, thankful and grateful for this experience. I wondered how many times in the past I hurriedly walked by scenes just like this and never gave it a second glance. There may come a time when I may not be able to see and feel these special moments, that's why it is so important to stop and see it now, absorb these days , drink them in and be thankful.
This painting is the autumn panel from my wine series titled "Le Quattro Stagione del Vino" The Four Seasons of Wine. I love this piece, the textures and colors are warm giving a feeling for the season it portrays. This series of paintings was inspired by a nine year job I held at one of the best Italian restaurants in the city, Ristorante Panorama. Panorama is world renowned for its vast selection of fine wines. "Le Quattro Stagione del Vino is the name of one of the banquet rooms that inspired this series of art. The series is almost complete after four years of work and after almost a decade of collecting the corks I am putting the finishing touches on the summer panel which I expect to have finished by years end.
If you need a creative boost, I suggest not allowing one of these autumn days to pass by without taking time to notice it.
Happy Painting!
http://www.samuelformica.com/